There is nothing like it on the planet. Event Marketer is the largest information source on event and experiential marketing in the world. Our flagship publication reaches 10,000 qualified buyers of event products and services, eventmarketer.com draws more than 35,000 unique visitors each month and our annual executive conference, The Experiential Marketing Summit, attracts thousands of marketers. All in, our audience has an aggregated buying power of more than $25 billion. Nobody else in this industry has this crowd. Nobody.
We connect sellers with buyers through three channels—print, digital and live. We offer traditional marketing options, sponsored advertorial programs as well as lead-generation services, custom publishing and consulting services. to those clients who are looking for unique ways to create impact. We excel at working with our clients to create results-oriented integrated programs that are as cost-efficient as they are effective. We have a library of success stories we can share with qualified prospects, and our more than 90 percent client-retention rate speaks to the power of our resources to get results for our clients.
The Biggest Spenders on the Planet
Go ahead. Ask the others—even they'll admit that Event Marketer's audience represents the "top of the food chain." From Intel, Coke, and Activision to Nike, Cisco and P&G—from Microsoft and HP to Adidas, Ford and Pfizer… nobody can match the quality of our readership. We usually joke that our readers are the bosses of the readers of other magazines. But, um, we ain't jokin'. All in, our audience has an aggregated buying power of more than $25 billion.
Since 2002, Event Marketer has been the world's most-respected provider of content on experiential marketing. Our point of difference pretty simple: We make the most content and the best content for the most event marketers from the best brands and agencies. We've been doing it for nearly two decades and we invite you to put the power of our brand to work for yours.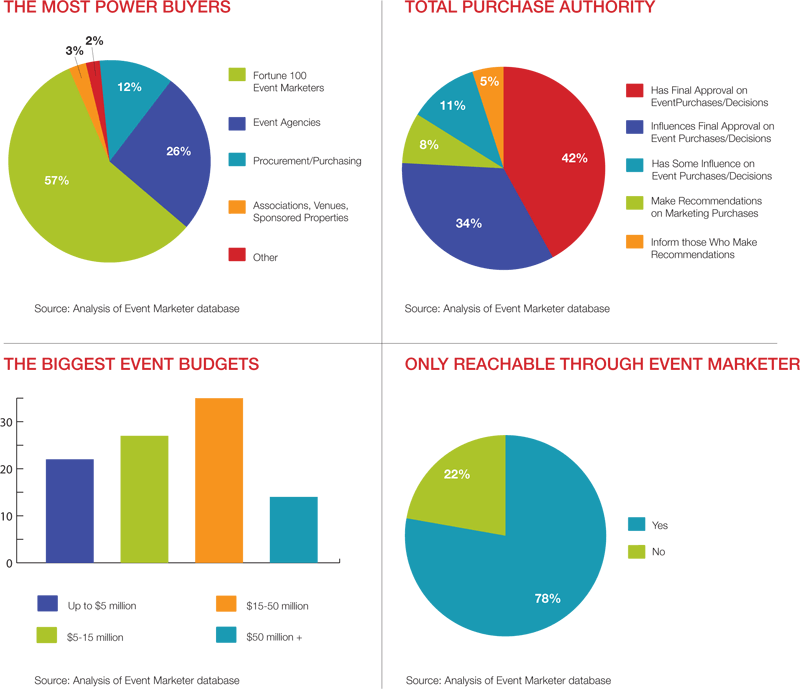 We are standing by to help craft an advertising program that will cultivate meaningful connections with the marketing industry's most ambitious buyers and decision makers. In the meantime, use our quick matchmaking guide below to see how our solutions can align with your goals—and then give us a ring for more details and ideas.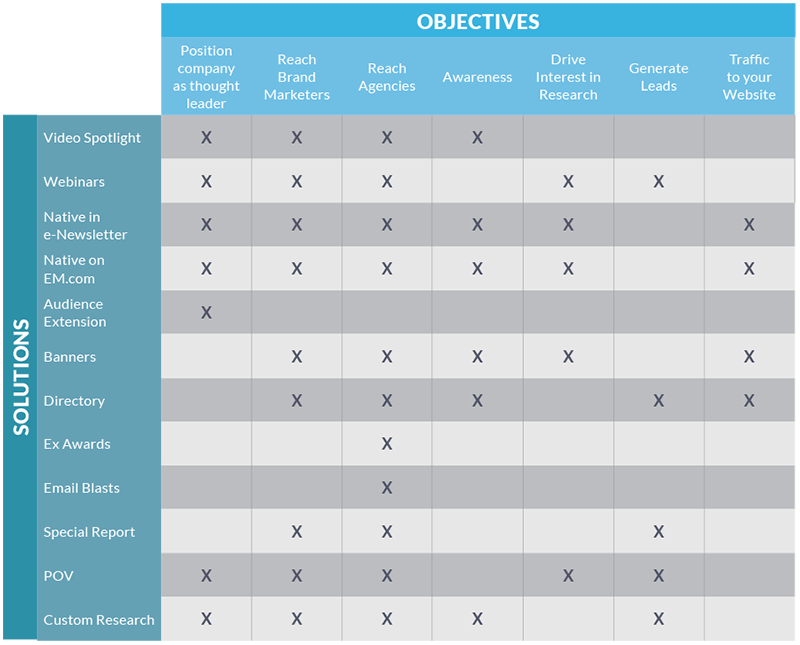 Advertising inquiries and Marketing Resource Directory inquiries, contact:
Alex Chung
National Sales Manager
203.899.8463
achung@accessintel.com